The Kilovolt Prueftechnik Chemnitz GmbH develops, manufactures and markets portable High Voltage Test Equipment. The main focus is on Cable Test Sets for insulation testing of Medium Voltage Power Cable Systems.
VLF Test Sets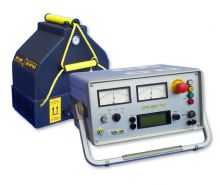 DC Hipot Tester 25kV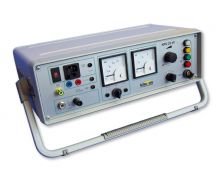 DC Hipot Test Sets 50-120kV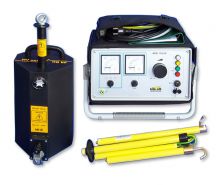 Re-Certification Audit according to DIN EN ISO 9001:2015
15 June 2023: The quality management system of KILOVOLT Prueftechnik Chemnitz GmbH was successfully audited and re-certified according to the standard EN ISO 9001:2015.

A functioning quality management system is a cornerstone for a continuous development and improvement. The DIN EN ISO 9001 is the most important national and international standard in quality management.

With the successful re-certification KILOVOLT Prueftechnik has again proven that the requirements for an effective quality management system are implemented. Quality is extremely important to us and is systematically planned, coordinated and tested by us.
10-year company anniversary - Happy Birthday, KILOVOLT!
On 1st October 2020 KILOVOLT Prueftechnik celebrates its 10th company anniversary. We would like to thank our valued customers, distributors and business partners for the trust they have placed in us over many years and look forward to further excellent cooperation.
new domain: »kilovolt.de«
We have acquired the domain »kilovolt.de«. The move of our website from »kilovolt.biz« to »kilovolt.de« took place on 1st August 2020. Our email addresses will also be changed to the new domain shortly.
Information regarding the COVID-19 pandemic
We are here for you!
Regarding the COVID-19 pandemic, we have taken all possible hygienic safety measures at our location. The health and safety of our employees and external partners is our highest priority.
As a reliable partner of the energy industry we at KILOVOLT PRUEFTECHNIK provide support for our customers even in this critical situation by maintaining service and production.
All products are available immediately from stock or can be delivered at very short notice.
Please stay healthy!
Company move to new premises successfully completed
For almost 2 years KILOVOLT Prueftechnik Chemnitz GmbH was looking for a new, bigger and seminal company location.
Numerous industrial properties in the city and outskirts of Chemnitz were checked as new potential locations. Finally, in September 2017 an agreement was reached with the new owners of the business park "Gewerbepark Wirkbau" - the MIB Wirkbau Chemnitz GmbH & Co. KG.
From October 2017 until January 2018 the construction work was in full swing. Modern and bright office rooms, a big conference and training room, a big production hall and warehouse and also a new big High Voltage Test Field were built. The new premises were fully equipped with high-efficiency glare-free LED lighting. Also investments into the IT infrastructure were made.
From February 2018 the company move took place. This step was important for the further growth of KILOVOLT. Luckily we could move inside of our business park, this has significantly reduced the effort for the relocation. And fortunately, due to this our well know address and contact data remain unchanged.
All of our employees have rapidly settled in. Our production is running again one hundred percent. In the course of relocation many processes were optimized. R&D, production, service and logistics are now perfectly linked.
With the new company location KILOVOLT is well equipped for the future.
KPG 54kV VLF for testing 19/33kV cables according IEC
The brandnew KPG 54kV VLF presented by KILOVOLT Prueftechnik is the world's smallest and most compact test equipment for VLF cable testing up to 19/33kV cables according to the standards IEC 60502-2, DIN VDE 0276-620 & 621 and CENLEC HD 620 & 621.
New generation of control for the VLF test sets
From 08/2016 a new generation of control for the VLF Test Sets is available.
Advantages of the new control:
significant increase in performance, i.e. higher capacitances and longer cable runs can be tested
industrial grade OLED-Display, perfectly readable in dark and in sunshine, full contrast >2000:1 even down to -20°C
multi-language menu (engl./ger./span./port./frech./ital./russ./pol./turk.)
USB-Interface / Firmware-Updates by USB flash drive
optional extension of the VLF frequency range down to 0.02Hz

Digital Meters for the DC Hipot Test Sets
As of now new Digital Meters are optionally available for our DC Hipot Test Sets.
Two modes of displaying the measured values can be selected by a switch:
combined view: analogue pointer plus digital value
graphical historic data with selectable time base
Minister of Economics Mr. Sven Morlok visited the KILOVOLT Prueftechnik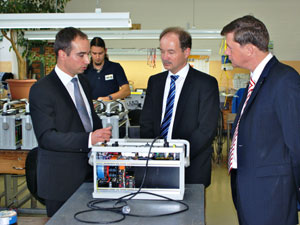 On 29 July 2012 the Saxon Minister of Economics Mr. Sven Morlok visited the KILOVOLT Prueftechnik Chemnitz GmbH as part of his tour to small and medium-sized companies. The State Minister was accompanied by Prof. Dr. Andreas Schmalfuss, 3rd Vice President of the Saxon State Parliament and of Bernd Reinshagen, county manager of BVMW (Association of mid-sized business) Chemnitz.
In an open round table the site conditions and the current economic development were discussed. Udo Neumann, managing director of the Neumann Elektrotechnik GmbH and Jan Haugke, managing director of the KILOVOLT Prueftechnik, explained to the visitors their successfully completed process of company succession, which was realized in year 2010.
Then presented KILOVOLT´s managing director Jan Haugke to the Minister the production of the innovative High Voltage Test Equipment. Finally, with a small demonstration in the company's own test field, the visitors were infected by the fascination of high voltage.