Our products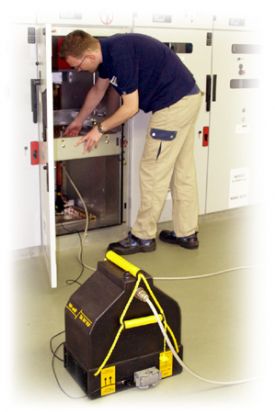 Our High Voltage Test Sets are used worldwide at Electricity Suppliers and at Energy Service Providers. The KPG´s make an essential contribution to security of supply of Power Grids. In the following overview you will find our products including all important information. Click on the left menu bar to come directly to the products.
Portable VLF cable test sets with 0.1 Hz - technology
The portable VLF test sets are used for testing of medium voltage cables with extruded insulation (XLPE-, EPR-insulation) in acc. to DIN VDE 0276/620, CENELEC HD 620 S1 or IEEE 400.
VLF is the very best and most effective method for insulation testing of medium voltage power cables with extruded (plastic) insulation. Using 0.1 Hz VLF test voltage, weak spots in XLPE, PE and also oil impregnated paper insulated cables are quickly brought to a controlled breakdown without causing additional damage or aging to the remaining cable insulation.
Cable sheath test with direct voltage is possible as well.
DC Hipot Test Sets
Our portable DC Hipot Test Sets have been designed as Cable Test Sets for DC Testing of Cables and Cable Systems. There are different versions available in the range from 25kV to 120kV. All devices are distinguished by rugged construction, compact design and minimum weight.