About us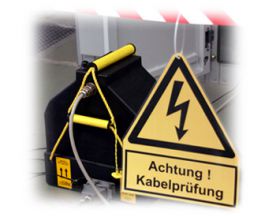 The Kilovolt Prueftechnik Chemnitz GmbH develops, manufactures and markets portable High Voltage Test Equipment. The main focus is on Cable Test Sets for insulation testing of Medium Voltage Power Cable Systems.
Test Equipment with the purpose to ensure operational safety of Electric Power Grids is permanent in use. In transformer station, at substations, on building sites, onsite at cable trenches… Obviously, this sets high expectations to the quality of our products.
Our factory is located in Germany, in the city of Chemnitz. Our vertical range of manufacture amounts almost 100%, we manufacture all the key components of our products ourselves. This philosophy guarantees a maximum of quality for each individual High Voltage Test Set by Kilovolt Prueftechnik.
We stand for quality – Made in Germany!
Based on decades of experience and competence in development and manufacturing of High Voltage Sources with minimized sizes, Kilovolt Prueftechnik belongs to the world's technology leaders.
The users of your products benefit particularly from following device properties:
optimum ratio between output power and weight
smallest dimensions
maximum safety
rugged, field-proven construction